Share this infographic on your site!
Just What the Doctor Ordered? Weird Medical Codes
If you see one one of these codes on a bill from your provider, you'll know something strange happened. Here are the top 15 weirdest medical billing codes, as well as some information on medical coding jobs in the U.S.
The Codes
V97.33XD
Sucked Into Jet Engine
Y93.D: V91.07XD
Burn Due to Water-Skis on Fire
V95.40
Injured by Spacecraft Collision
R46.1
Bizarre Personal Appearance
W56.22
Struck by Orca
V91.35
Struck by Falling Object Due to Canoe or Kayak Accident
X52
Prolonged Stay in Weightless Environment
V96.00
Unspecified Balloon Accident Injuring Occupant
W61.01
Bitten by Parrot
W61.12XA
Struck by Macaw
V94.810
Civilian Watercraft and Military Watercraft Involved in Water Transport Accident
W56.11
Bitten by Sea Lion
W56.32
Struck by Marine Mammals
Y93.D1
Accident While Knitting or Crocheting
Y92.253
Hurt at the Opera
Jobs in Medical Coding
Medical coder job snapshot (3)
Average salary: $47,870
Job outlook: 21% increase by 2020
Medical coding jobs in 2010: 179,500
Education: 80% of medical coders have some postsecondary education
Medical coders work in both clinical and non-clinical settings: (4)
Hospitals
Physician offices
Surgical centers
Long-term care facilities
Dental offices
Home health agencies
Mental health facilities
Insurance companies
Government agencies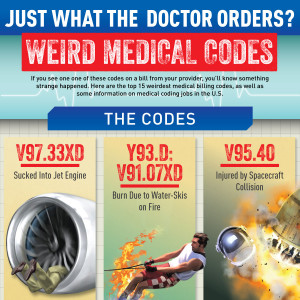 Sources:
1. http://www.healthcaredive.com
2. http://medicaleconomics.modernmedicine.com
3. http://www.careerstep.com
4. http://www.innerbody.com